In this age of the internet, things don't take much time to get viral. These days a heart whelming story of Zomato and Ramu Sahu, a specially-abled delivery boy, is ruling the social media. A few days back, impressed with Ramu's hard work, the food delivery giant Zomato gifted him an electric tricycle. A video of the same got viral among the twitter that is now receiving great appreciation from netizens.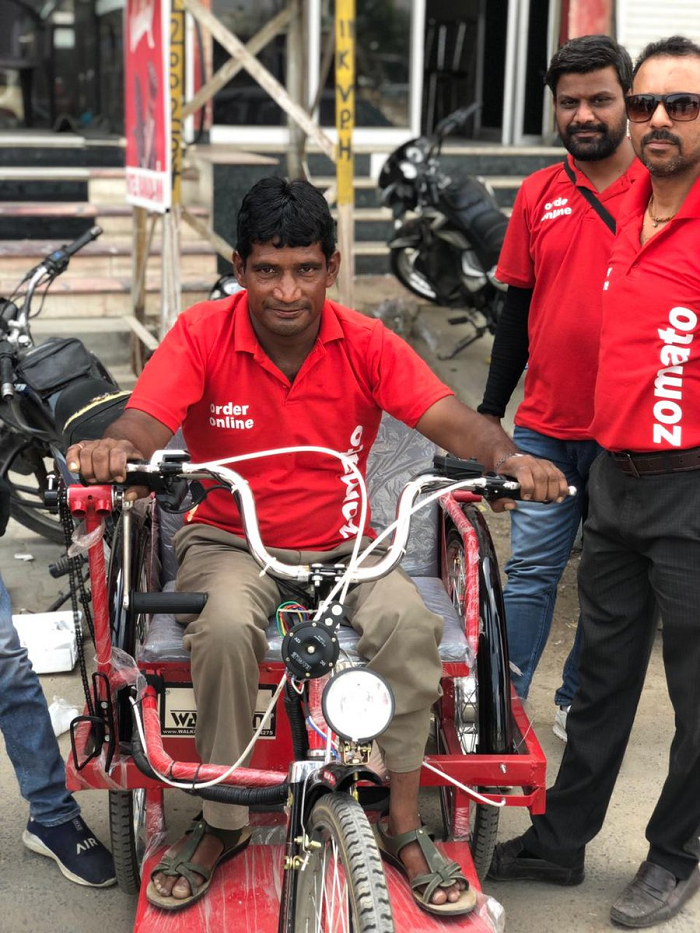 Read More: Blogger Who Cried Over Deleted Instagram Page Said She Called Police After Losing The Account
Ramu Sahu is a delivery boy from Bewar, Rajasthan, a state in India. This specially-abled man proved that hard work always pays off.
He is associated with Zomato for a long time as a delivery boy. Earlier, he used to deliver food with his hand-pulled cycle. Due to his miserable physical condition, this job became really tough for him. However, he never gave up. Now, impressed with Sahu's performance, Zomato recently gifted him an electric tricycle.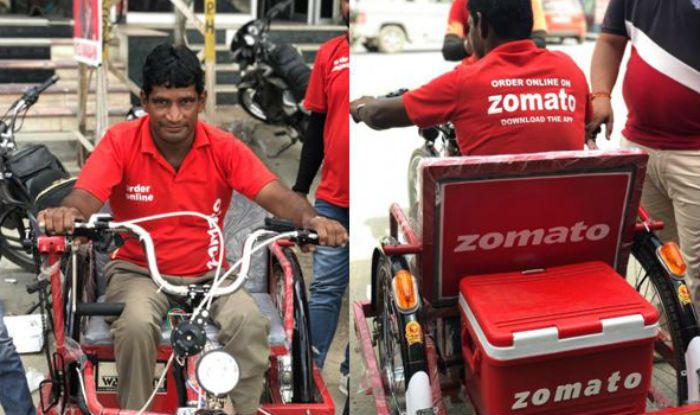 Previously, a man shared a video Ramu featuring him with his old hand-pulled cycle and commended his efforts. He also requested netizens to make Ramu famous. The video got viral in no time, people showered it with hundreds of comments and commended Ramu for his efforts. Then, even Zomato received huge appreciation for hiring a specially-abled person as their delivery boy.
#Zomato you keep rocking , you made my day , this man is the inspiration for all who thinks there's life is screwed , please make this man famous pic.twitter.com/DTLZKzCFoi

— Honey Goyal (@tfortitto) May 17, 2019
Among the popular comments on the viral video, some suggested Zomato provide him with an electric vehicle to make his job easier. Amazingly, Zomato took those suggestions seriously and gifted a tricycle to Ramu.
Read More: Woman's Cornea Eaten Away By Bacteria After Sleeping In Contact Lenses
Recently, a food aggregating application's founder named Deepinder Goyal has shared a series of tweets revealing that the specially-abled delivery boy has gracefully accepted the new vehicle from Zomato. In the new videos, you can see Ramu trying hands on his new electric tricycle.
UPDATE: Our delivery partner Ramu Sahu has gracefully accepted the electric vehicle that we were keen on him having. 💯 pic.twitter.com/LrJp86tZ8h

— Deepinder Goyal (@deepigoyal) May 28, 2019
Ramu getting a hang of his new ride. 😇 pic.twitter.com/C7iaxWtDCf

— Deepinder Goyal (@deepigoyal) May 28, 2019
The post is winning the hearts of millions. From the common people to the celebrities, everyone is praising Zomato for this sweet gesture.
Image Source: Twitter