Social Media is at its peak in the twenty-first century. We come across many posts and videos every day. Similarly, a video of a 5-year-old girl going to drop his blind father at work and getting him back from there went viral in 2016. This little 5-year-old girl named Jenny would drop and bring back his father from work. His father named Nelson Dodong Pepe would work on a coconut farm.
She would use a stick to guide his father on the way so he that he don't collide into things or people They walked barefoot to the place. Luckily, the video of this 5-year-old girl went viral and was seen by a charity organization who later helped Jenny and his father. Jenny would give his father a bottle of water before he would start his work.
Read more: Miss USA Compelled To Say Sorry After Insulting Other Miss Universe Contestants
During the tea break Jenny would lead his father to the canteen to have something to eat or drink. After watching the video the ABS-CBN foundation went to visit them. According to the foundation Jenny father would get just 300 pesos (1 Philippine peso equals 1.37 INR). The foundation hepled them and took Jenny's father to Manila where he was diagnosed with Retinal detachment and retinitis. Retinal detachment occurs when the retina separates from the back of your eye Retinitis pigmentosa (RP) is a genetic disorder of the eyes that causes loss of vision.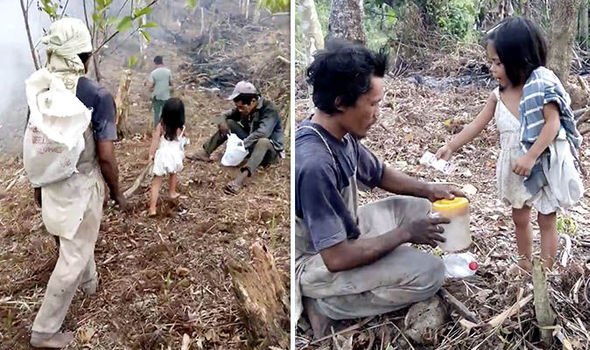 The foundation on their website announced that Jenny's blind father would undergo 'livelihood training' and his family would be shifted to a safe and better environment. Their family no more have to be anxious about their living conditions. These foundations helping the poor are the real gems. If everyone would be this generous many people would come out to live a good life.
Read more: Chinese Man Offers Money To A Teen To Buy Clothes After Seeing Her Ripped Jeans