The release date is at the corner for the new Samsung Galaxy Fold in the US and the manufacturers are surprised by the incident of the screen breaking up. The scheduled released for the phone is April 26th and till then few models were given for review. Several reviewers are facing a common issue of the screen being damaged within a few days of use.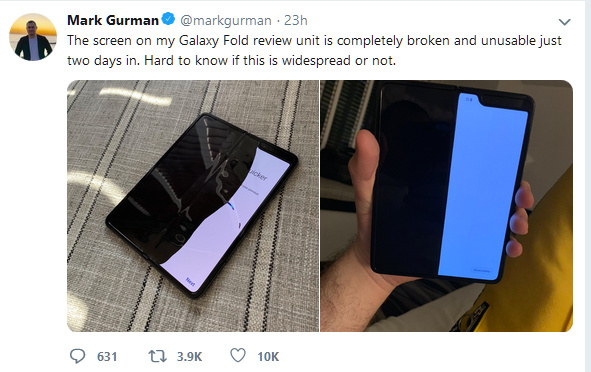 The Samsung Galaxy Fold is priced at $1980 and offers a two-screen experience for the user. There is a 4.6-inch screen on the exterior of the device which adds to the typical smartphone look. The other screen of the phone is a folding one on the interior which when opened provides a full-screen display of 7.3 inches.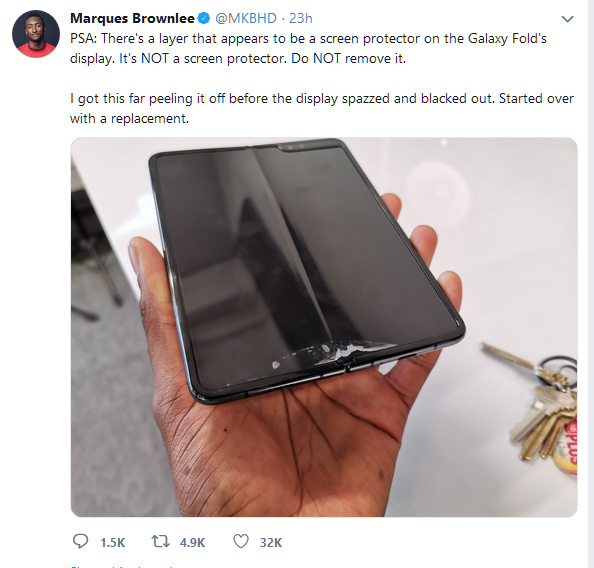 Apparently, this is happening because in most of the cases the users have removed the protective layer of the screen. It is said that the layer is being confused with a screen guard and hence was removed in several cases.
A video shared regarding the failure was shared on Twitter as well.
After one day of use… pic.twitter.com/VjDlJI45C9

— Steve Kovach (@stevekovach) April 17, 2019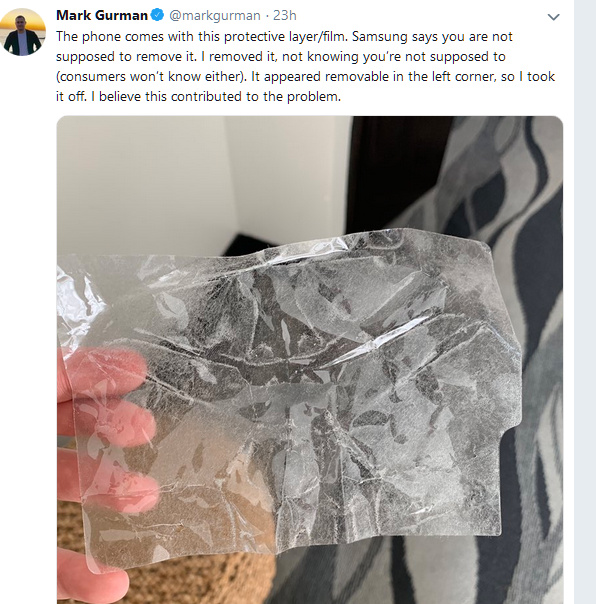 In a statement issued Samsung says that:
A few sample units of the Galaxy Fold were issued to the media for their review for the model. It has been reported by them that they are facing issues with the main display of the phone. The issue and these sample units will be thoroughly inspected to figure out the main reason for the problem.
Additionally, it was reported by the reviewers that when the top layer of the display was removed it triggered the issue.
The main display of the phone has been equipped with a protective layer from the manufacturer. It has been featured to provide protection to the screen from accidental scratches. Removing this layer or adding any adhesive will cause damage to the phone.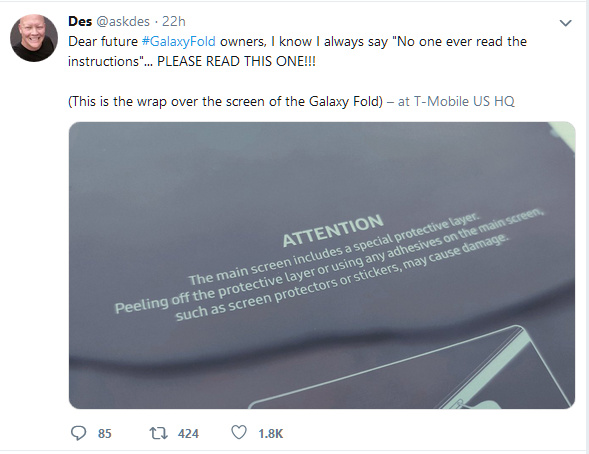 Samsung had assured that the information will be clearly conveyed to its customers.
However, Editor from the Verge, Dieter Bohn did not peel off the layer yet have reported an issue with the device.
Read More: Mother Claims She Saw The Glimpse Of Jesus In The Notre Dame Flames