Women safety has always been a primary concern in our country. Many laws have been enforced in the constitution regarding the safety of women. Many institutions are there to ensure that these laws are implied properly. But are these institution really following the instructions given to them, are they working on the safety of the women?
Read More: 30 Optical Illusions Created By Shadows That Are Just Too Incredible
A shocking incident took place in Mumbai that proves that women are still not safe in the country despite so many laws.
Megha Sharma a resident of the complex at Lokhandwala around 1 p.m got in an argument with the security guard of the complex. In between of the argument, Megha dialed an emergency number seeking police help since the guard raised hands on her.
The police arrived within 10 minutes and asked Megha to come with them to the police station after she narrated the entire incident to them despite the fact that our constitution provides a law that no female can be arrested after 6 p.m. And what's more outrageous was the police team arrived without any female constable.
When police asked the girl to come to the police station with them she said to them that she would visit the police station the next morning and got into the lift back to her flat. But the police did not stop there and attempted to stop her. What's shocking was that the same security guard against whom she filed complaint prevented the doors of the lift from being closed and the police team continuously forced her to come out.
She tried to convince them that her lawyer will have a talk with them but they didn't let the girl go. With the rage of anger, she started removing her clothes and people out there instead of rescuing her started making a video on their phone.
She posted a video along with the following post: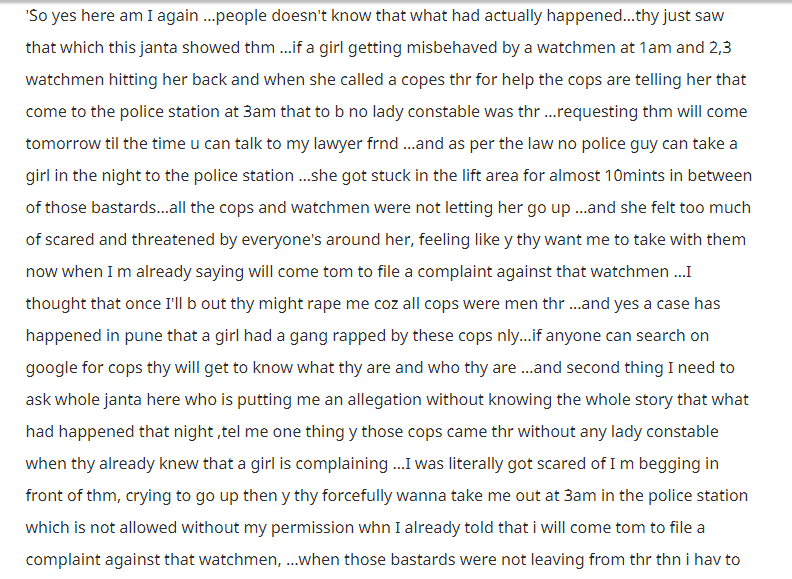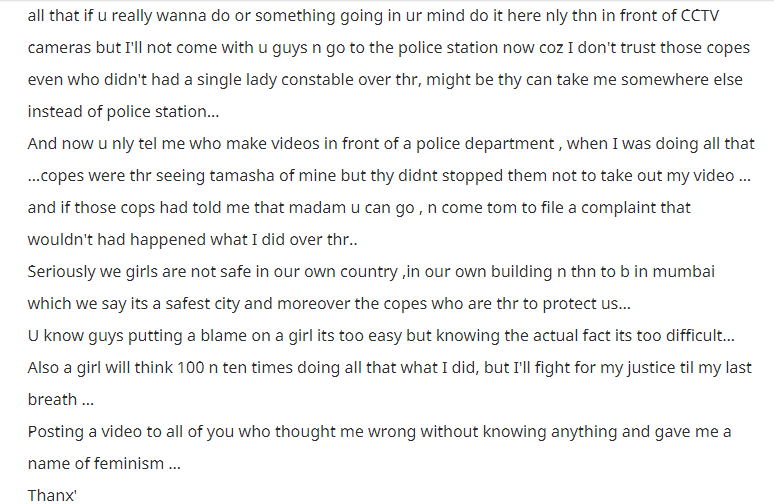 Here's the whole video:
So yes here am I again …people doesn't know that what had actually happened…thy just saw that which this janta showed thm …if a girl getting misbehaved by a watchmen at 1am and 2,3 watchmen hitting her back and when she called a copes thr for help the cops are telling her that come to the police station at 3am that to b no lady constable was thr …requesting thm will come tomorrow til the time u can talk to my lawyer frnd …and as per the law no police guy can take a girl in the night to the police station …she got stuck in the lift area for almost 10mints in between of those bastards…all the cops and watchmen were not letting her go up …and she felt too much of scared and threatened by everyone's around her, feeling like y thy want me to take with them now when I m already saying will come tom to file a complaint against that watchmen …I thought that once I'll b out thy might rape me coz all cops were men thr …and yes a case has happened in pune that a girl had a gang rapped by these cops nly…if anyone can search on google for cops thy will get to know what thy are and who thy are …and second thing I need to ask whole janta here who is putting me an allegation without knowing the whole story that what had happened that night ,tel me one thing y those cops came thr without any lady constable when thy already knew that a girl is complaining …I was literally got scared of I m begging in front of thm, crying to go up then y thy forcefully wanna take me out at 3am in the police station which is not allowed without my permission whn I already told that i will come tom to file a complaint against that watchmen, …when those bastards were not leaving from thr thn i hav to all that if u really wanna do or something going in ur mind do it here nly thn in front of CCTV cameras but I'll not come with u guys n go to the police station now coz I don't trust those copes even who didn't had a single lady constable over thr, might be thy can take me somewhere else instead of police station…And now u nly tel me who make videos in front of a police department , when I was doing all that …copes were thr seeing tamasha of mine but thy didnt stopped them not to take out my video …and if those cops had told me that madam u can go , n come tom to file a complaint that wouldn't had happened what I did over thr..Seriously we girls are not safe in our own country ,in our own building n thn to b in mumbai which we say its a safest city and moreover the copes who are thr to protect us…U know guys putting a blame on a girl its too easy but knowing the actual fact its too difficult…Also a girl will think 100 n ten times doing all that what I did, but I'll fight for my justice til my last breath …Posting a video to all of you who thought me wrong without knowing anything and gave me a name of feminism … Thanx

Posted by Sharma Megha on Sunday, October 28, 2018
Now, there as you know that every story has two sides just like a coin, so this story too had two sides. The above was the story that the girl narrated but we have another video that says a completely different thing.
Here's the video:
#DrunkGirlMany media bullies will say she is being sexually assaulted without listening to the other side of the story.Watch at your discretion. She is a good actor although.#Oshiwara#Innocent and #DrunkGirl Video-2

Posted by SIFF NORTH INDIA on Saturday, October 27, 2018