We are the victims of social media goof-up that has terrified us for life. But not your biggest goof-up can qualify for the kind that has recently happened with these Pakistani officials during the live stream of a meeting. While going live on Facebook's page they accidentally left the cat filter on and suddenly the Pakistani officials had the cat ears and whiskers on their faces.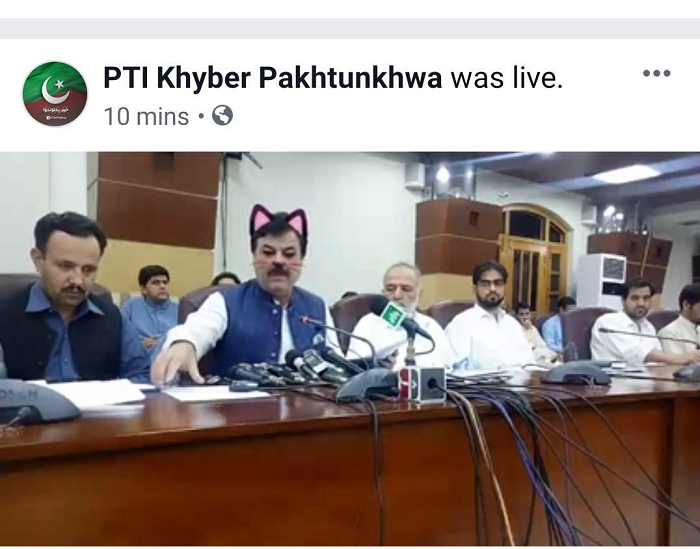 The current ruling party is the political party in Pakistan is of the Prime Minister of Pakistan that is Imran Khan. His political party is called 'Pakistan tehreek-e-insaaf' and they were live streaming their meeting with the press conference on Facebook. But the noticeable part that became the hilarious element throughout the meeting is that someone forgot to turn off the cat filter from the feature and they all end up being the matter of laugh.
PTI KP govt. social media team forgot to turn off the facebook cat filter while live streaming a press conference. 😂 pic.twitter.com/I37N1GaeSy

— Danish Zaidi (@syedmdz) June 14, 2019
The video immediately went viral and in no time became a meme. The images remained viral on Twitter and users were sharing the images writing their own captions that made the whole incident even funnier.
PTI's social media team forgets to remove the cat filter from a live press conference. 😂 pic.twitter.com/VPYCPMdW7r

— Ammara Ahmad ਅਮਾਰਾ ਅਹਿਮਦ (@ammarawrites) June 14, 2019
Someone from Pakistan even commented on the live video indicating towards the fact that the cat filter is on and everyone is looking like a cat but unfortunately he got trolled too. Besides the images of Pakistani Government officials, the specific comment of this boy was also going viral and was getting shared again and again.
Can't stop laughing 🤣🤣 pic.twitter.com/lcI2EyspKp

— Naila Inayat नायला इनायत (@nailainayat) June 14, 2019
The feeling of embarrassment after a social media goof-up is undeniable and when it's done by an authority figure it's even more hysterical. But the social media, especially Twitter took it as an opportunity to create memes and proved that not all goof-ups can be bad, some could be the reason behind your laughter and it ends up being funny, not so much for the Pakistani officials though.
According to KP government's social media team we now have a cat in the cabinet #Filter pic.twitter.com/LNl7zwOfLU

— Mansoor Ali Khan (@_Mansoor_Ali) June 14, 2019
Read More: This Girl Who Lived In A Garbage Dump Got A Scholarship At University In Australia