Alyson, a local resident of Sydney, Australia sees a homeless man every day while passing through the road. She noticed that the old man sits at the 59-year-old, Chris, sits at the same spot with his pet rat named Lucy. Chris happily talks to the passerby and allows them to play with his rat. The rat keeps munching on snacks and entertains everyone. However, now the homeless man is seeking for help as his beloved pet rat is stolen.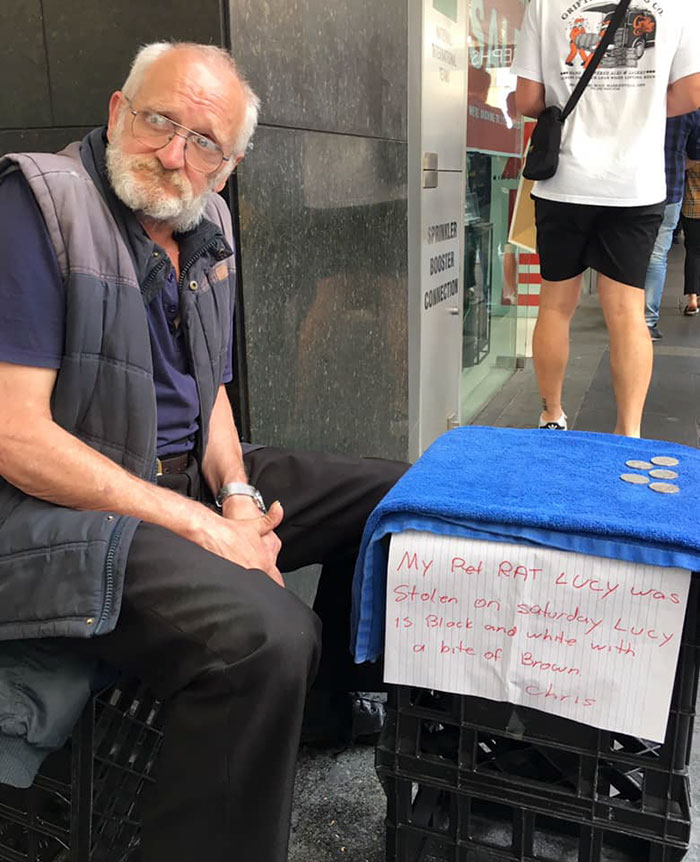 Yes, Lucy is stolen. A few days ago, Alyson was passing through the same road and noticed that the old man is distressed. She decided to check on the old man, as she reached closer she noticed the signboard telling the people that his beloved pet, Lucy is stolen.
Read More: A Millionaire Is Organizing A Real-Life Battle Royale On A Private Island
Chris told Alyson that Lucy was probably taken when he briefly left to go to the loo. Baffled with this stealing of pet from a homeless man, Alyson called the incident as 'a low act'.
Seeing the sad old man, Alyson decides to take charge in the matter and wrote a Facebook post about it. Her post went viral, till now almost 16k people have shared the post.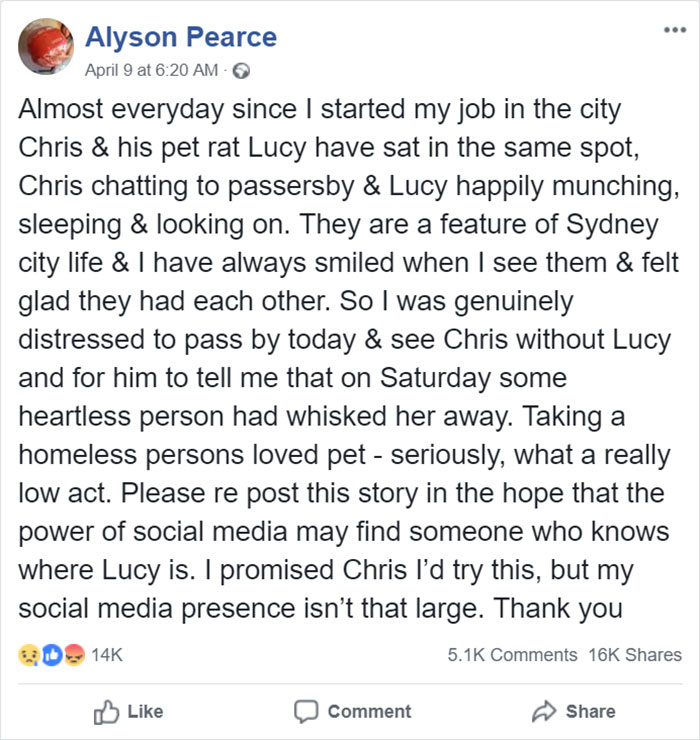 Most of the people expressed their anger towards the person who attempted this cheap stealing. Some of them are even suggesting the ways to find out Lucy.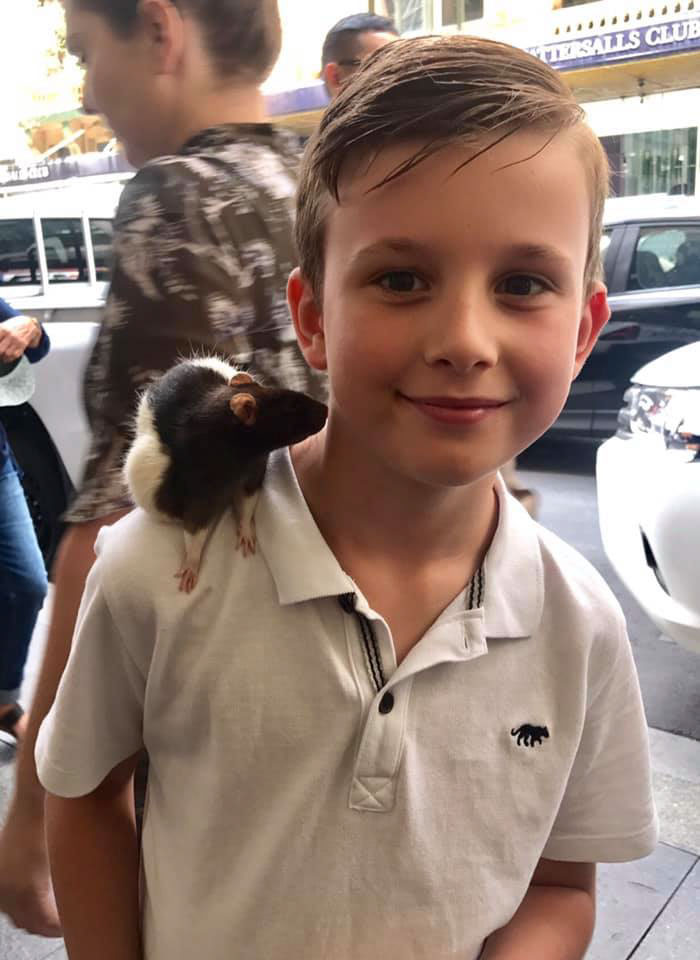 Recently, a huge number of people have shared Lucy's picture with the hope of hearing some positive news about his whereabouts.
Read More: Man Becomes Lawyer To Win His Father's Disputed Land!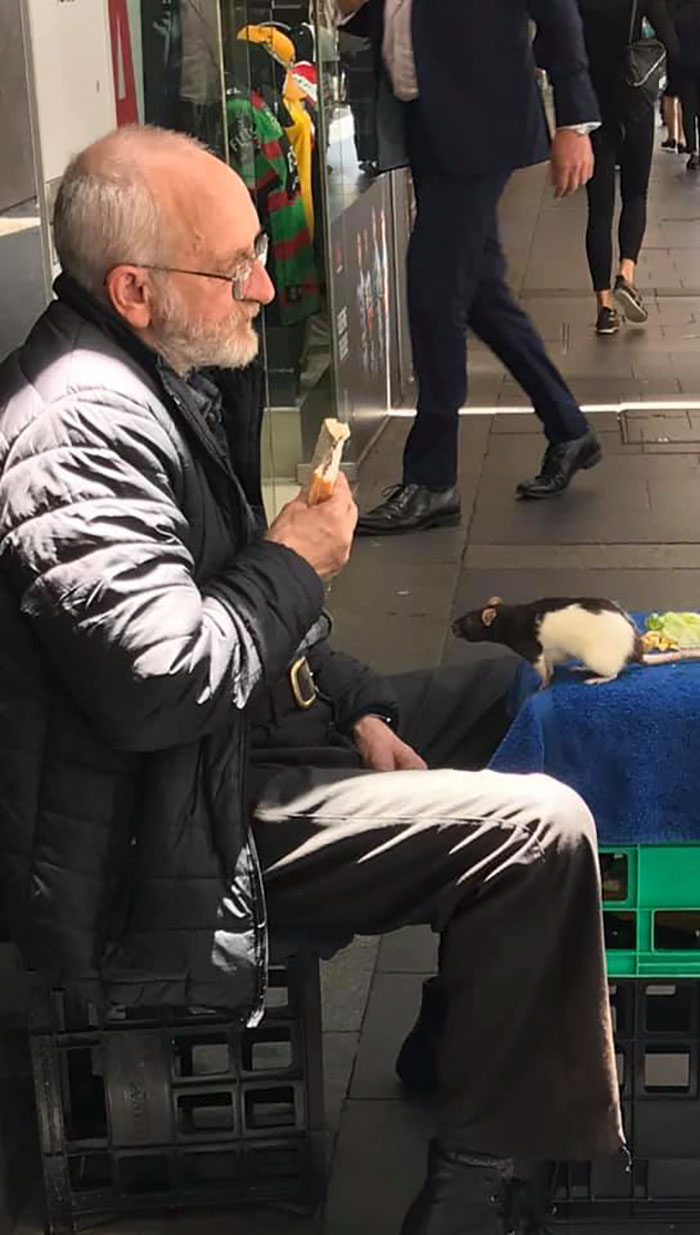 Meanwhile, the homeless man has logged in a police complaint. Police are checking the CCTV, hopefully, they would catch the suspect soon. But as of now, there is no new information about Lucy.
Lucy is the only partner of this homeless man in this world. Over the years, local people have become very attached to both Lucy and his homeless owner.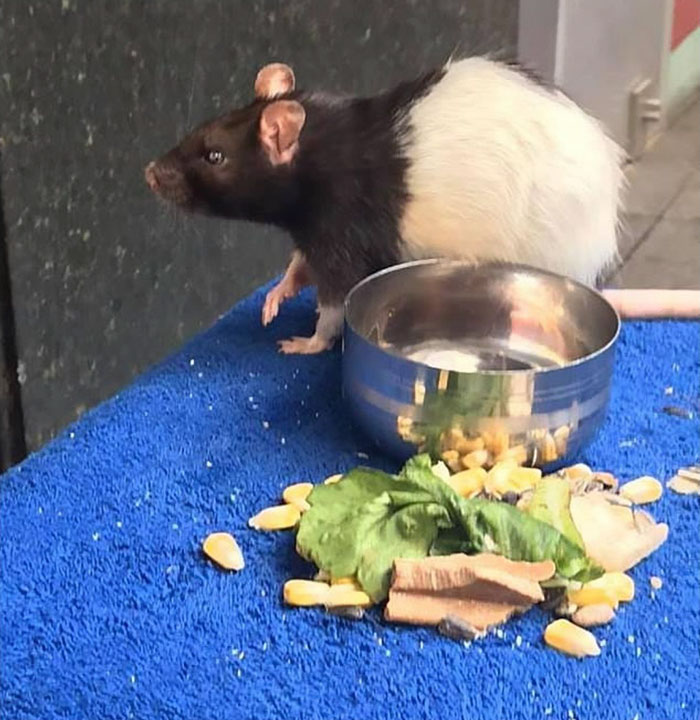 We hope Chris would get his beloved pet back soon.