Little babies are always adorable but getting them to stay asleep is quite a challenging task. Well! here we are presenting Joey Marie, a 4-month-old baby who is very good at sleeping. You will be amazed to hear, that this 4-month-old baby unknowingly became a star while sleeping and with no doubts, all credit goes to her mommy, Laura Izumikawa.
Mommy Laura dressed up her 4-month-old daughter in different costumes while she's asleep and the results are just adorable. Yes, from a  Sushi to Pokemon, she turned her daughter into the cutest looks ever!
So, let's scroll and see the adorable baby who became a star while sleeping.
1. Maria From 'Sound Of Music'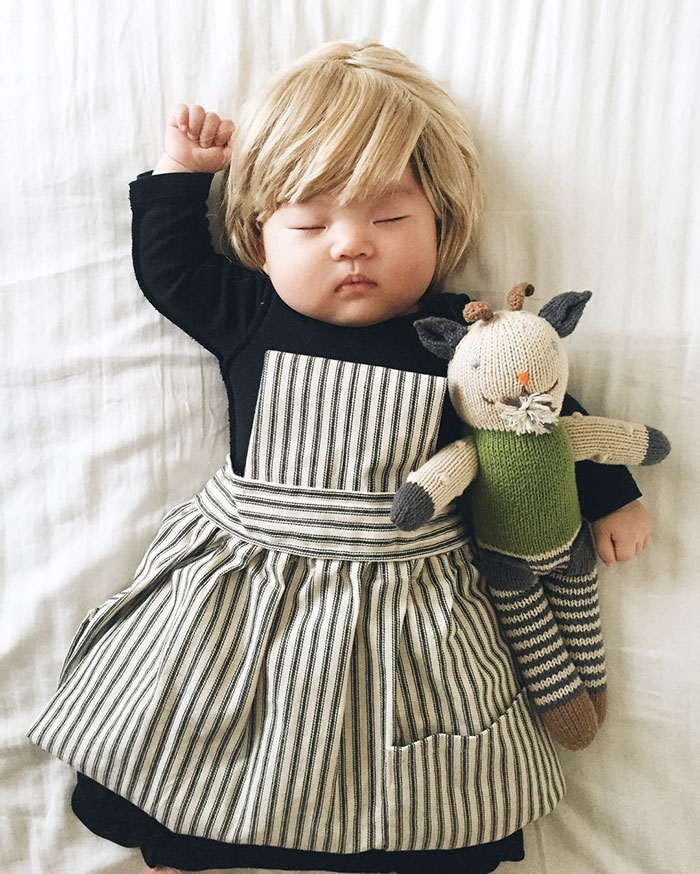 2. Misty From Pokemon
You may also like to read: Pregnant Mommy Cooked 152 Meals And 228 Snacks Before Delivery So She Can Save Time Later
3. Princess Ariel, She Is Just Aww-dorable!
4. A Marshmallow Man
5. She's So Damn Cute I'm melting
6. A Mechanic, Seems She Works Really Hard For Money
7. Cutest Karate Kid I Ever Seen
8.Trin Trin! Milkmaid
9. The Cuter Beyonce
10. OMG! She Is Dressed Up Like Skrillex
11. Tatata Tarzan
12. Here Is Imperator Furiosa From 'Mad Max"
13. Our Little Ninja Is Ready!
14. Anyone Want Sushi?
15. Pee-ka-Boo, Pikachu!
16. Her Smile! She Must Be Dreaming Of The Korean Spa
17. A Nigerian Child, Oh! She's Awake In This One
18. Here We Are Presenting The Coolest Employee Of The Month
19. Eleven From 'Stranger Things'
20. An Olympic Swimmer Who Just Won A Gold!
21. Little Sia
22. Damn! Jon Snow
You may also like to read: Teen Revealed How Easy It Was For Him To Fake Being Rich On Instagram!
23. This one's amazing!!

24. She's Finding Dory!
25. Garth Algar From 'Wayne's World'
26. At first, I thought the kid was the Chewbacca, But Its Han Solo

27. And When Sushi Turned To Sushi Master!
28. Goku From 'Dragon Ball Z'
29. Cutest Mermaid
30. Slash From Guns N' Roses