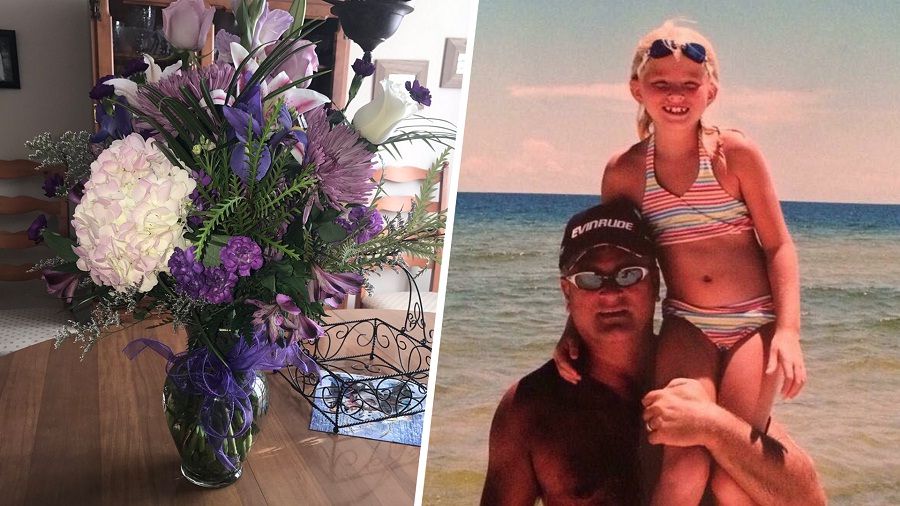 A father is considered to be the real hero in their child's eyes. The most special person in their child's life, who teaches them good values and also gifts them with many things, that their child wishes. They understand, they teach and they show the way to a good successful life. Here is an amazing story of one daughter, whose father apparently passed away, yet he sends her bouquet of flowers every year on her birthday. An incredible way for the father to be with her daughter, even though he doesn't exist.
Also, read 30 Parents Share The Most Creepy Things Their Child Has Ever Said To Them
Michael Sellers, the father of Bailey Sellers was diagnosed with Stage 4 pancreatic cancer in early 2013. Doctors told him he had only two weeks to live, but he could prolong his life by a month with chemotherapy. He opted not to have the treatment and lived for another six months.
Bailey's father died in 2013 when she was just 16-years-old. She told TODAY "For six months I watched him deteriorate … I was happy he was no longer suffering, but sad because I lost my dad."
Sadly, it has been five years, since he died, yet, the father remembers to send her daughter flowers on her birthday every year.
One day when the daughter arrived home on her 17th birthday, barely two months after her father's death, she was spellbound to see a bouquet of flowers on the front porch. Guess what the card read, "Happy birthday. You'll be receiving these until you're 21. Love, Daddy."
Hence, it was confirmed that every year the daughter would be receiving a bouquet of flowers from her late father. This heart-touching act had moved the daughter, as her birthday had become a point of retelling about a lost father, who made her birthday's exceptional and memorable.
"Growing up, we didn't have a lot of money … My dad loved us so much, he would eat crackers at lunch and go without eating to give us gifts," Bailey explained. "My birthday often fell on the day after Black Friday, so he would go out to get really good deals. He was so proud of the gifts he bought me."
Bailey was feeling down as she turns 21 this year and knowing the truth, that the bouquet of flowers is gonna stop. "I felt like this was goodbye," Sellers said.
The daughter received on her birthday, that was 24th November, along with the flowers as expected, a lovable letter from her father.
"This is my last love letter to you until we meet again," the note read. "I do not want you to shed another tear for my baby girl for I am in a better place. You are and will always be the most precious jewel I was given."
The letter continued, "I want you to always respect your momma and stay true to yourself. Be happy and live life to the fullest. I will still be with you through every milestone, just look around and there I will be."
In summer 2012, Bailey's basketball team won the national championship. She said she remembers seeing her father jumping in excitement after her teammate shot the winning basket.
Bailey Sellers had one of her father's notes to her tattooed on her wrist.
Bailey shared a photo of the gift on social media, which went viral, building more than 368,000 retweets and well over 1 million likes.
The letter and all the recognition which came along apparently brought Bailey closer to her father, instead of making it feel like a final goodbye. "I feel like he's in heaven watching over me, even sitting right next to me," she said. "If I could tell him something right now, it would be, 'Thank you for everything you have ever done for me, for making me a strong person and loving me unconditionally.'"
She happened to receive tons of messages from people who had lost their parents, and also, from people who got inspired to cherish their relationships with their existing parents and children. " So many sweet messages" she went on to tell TODAY.